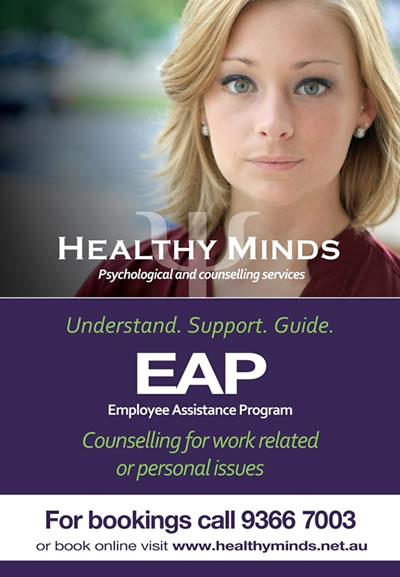 Traditionally employers have focused on the physical health of their employees. While this is a key obligation it is now also essential that employers consider their employees psychological health. It is important for employers to take into consideration that one in five Australians will experience mental health issues in their life time and to consider that their employees psychological wellbeing will have a significant impact on their work-life in a range of different ways.
Healthy Minds can assist your company to improve the psychological wellbeing of your staff and increase their workplace resilience. Counselling can result in increases in productivity, commitment and job satisfaction; reductions in absenteeism; and positive outcomes for mental health issues and alcohol and other drug issues.
Reasons to access EAP
Counselling focuses on the prevention and/or remediation of your staff's psychological health issues and assists them to address problems such as:
Motivation and performance
Workplace or personal conflict
Difficulty with change/transitions
Stress/Anxiety
Grief/Loss
Relationship issues
Gambling
Alcohol and other drug issues
Health Management
Mood disturbance (e.g., depression)
Life crises
Sleep problems
EAP Psychologists
Healthy Minds psychologists are all highly experienced in vocational counselling and in assisting people from a wide range of backgrounds and ages. Our staff are there to understand, support and guide your employees to improve their psychological wellbeing.
How to access EAP counselling?
We offer confidential psychological counselling sessions for staff on a face-to-face, telephone, internet or video conferencing basis. Please contact our practice manager on (03) 9366 7003 or info@healthyminds.net.au to discuss how to access our services.
Confidentiality assured
Our services are confidential so we do not report the names of those employees who access our services. We report to employers the numbers of their employees who have accessed our services but no personally identifying information will be revealed.